Pricing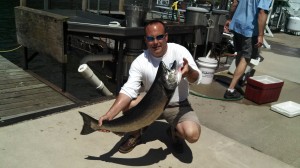 Our boat is capable of taking up to six passengers.
All charters are operated by a USCG Licensed captain who will guide your sportfishing experience.
Charters can be set up for times that best fit your schedule, with most customers doing either half-day or full-day sport fishing experiences.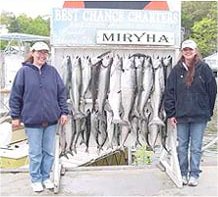 Half Day Charter (Approximately 5 hours)
Morning – 6am-11am
Afternoon – 3pm-8pm (times in evening adjusted for seasonal sundown)
1-4 people – $800
5-6 people – $100 per additional person
Full Day (6am -2pm)
1-4 people – $1000
5-6 people – $100 per additional person
If these options aren't quite what you are looking for, then give Capt Mike a call at the number below to discuss a time that works for you.
All major credit cards, check, and cash accepted for payment.

*Prices do not include gratuity for crew which is greatly appreciated.
Click Here to Request a Charter Trip or Call Capt Mike at
616 836-0439