Pricing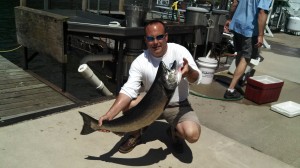 Our boat is capable of taking up to six passengers.
All charters are operated by a USCG Licensed captain who will guide your sportfishing experience.
Charters can be set up for times that best fit your schedule, with most customers doing either half-day or full-day sport fishing experiences.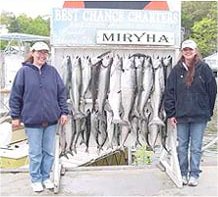 Half Day Charter (Approximately 5 hours)
Morning – 6am-11am
Afternoon – 3pm-8pm (times in evening adjusted for seasonal sundown)
1-4 people – $800
5-6 people – $100 per additional person
Full Day (6am -2pm)
1-4 people – $1000
5-6 people – $100 per additional person
All Day: Leave the dock at 6 am and back after dark. This trip is for the dedicated group that wants to fish from daylight 'til dark. We will treat you like royalty on this trip with morning fishing, a prepared and provided lunch on the boat as we take a break from fishing at mid-day, then set back up for the night fishing push as you watch the sunset over beautiful Lake Michigan. Be sure to have your cameras ready for their special view. We do need a little notice to get this one booked so we can have the food and our best first mate on board to serve your party, so while we can't book this one the day before, it is our pleasure to provide this option. Feel free to ask the captain for any special foods that you might like to be included in the lunch. $1,500 for up to 6 people.
If these options aren't quite what you are looking for, then give Capt Mike a call at the number below to discuss a time that works for you.
All major credit cards, check, and cash accepted for payment.

*Prices do not include gratuity for crew which is greatly appreciated.
Click Here to Request a Charter Trip or Call Capt Mike at
616 836-0439